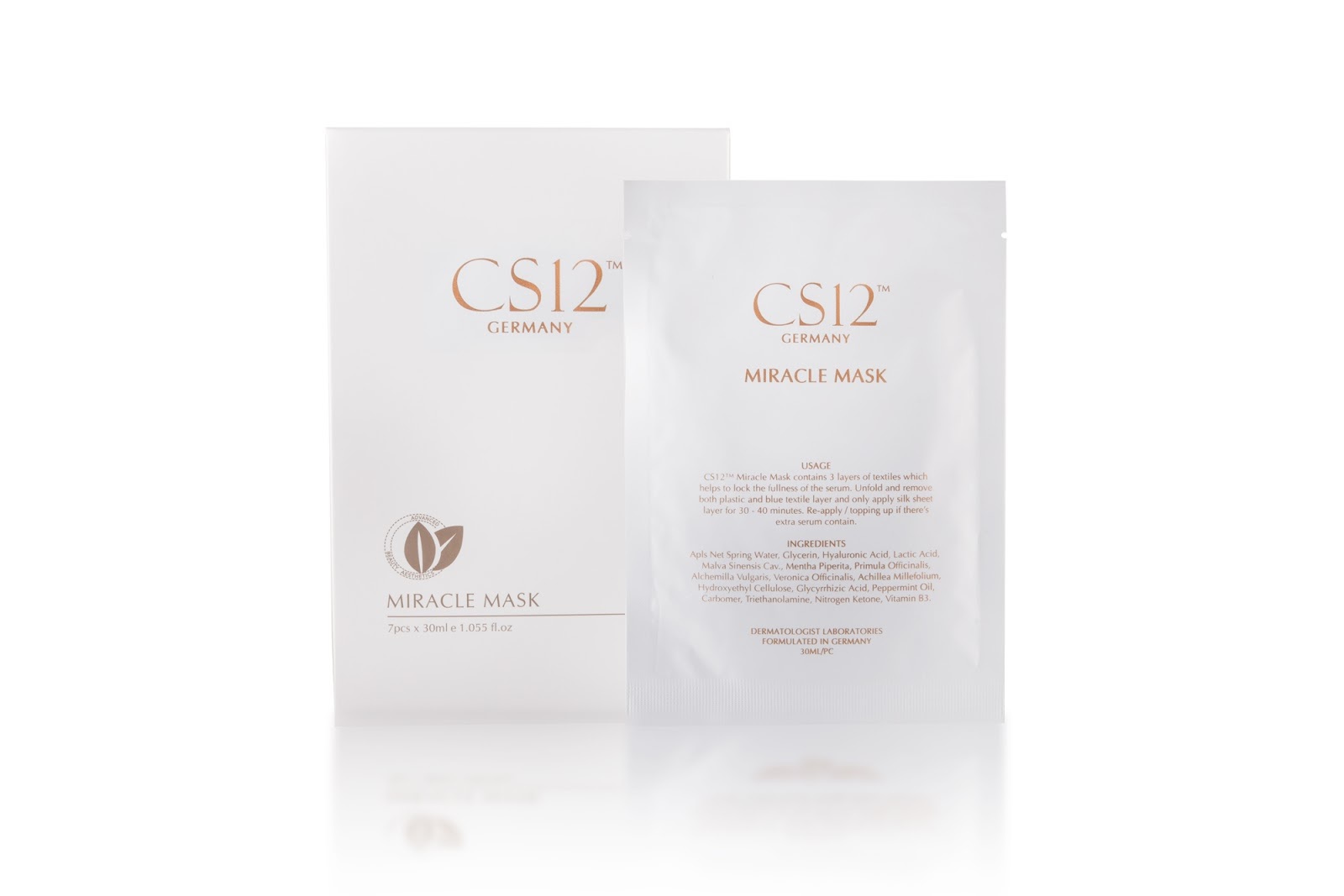 CS12 MIRACLE MASK 醫美蠶絲面膜
Miracle Mask 醫美蠶絲面膜
Specialized for sensitive skin, CS12™Miracle Mask
is made with Japanese high quality silk facial cloth,
well soaked with high volume of serum essence that
contains anti-inflammatory properties, helps to
soothe and moisturizes your skin after sun-burned
or sensitive dehydration. Active ingredients such as
Hyaluronic Acid helps to regenerate new skin cells,
brighten up skin tone, reduces fine lines and wrinkles.
Also to prevent skin damage from UV rays + remove
dead skin cells effectively.
Key Ingredients: Hyaluronic Acid, Malva Sinensis, Achillea Mellefolium, Primula Officinalis
CS12™醫美蠶絲面膜採用了日本高纖超薄蠶絲,
浸泡在高容量精華素里,適用於大眾肌膚甚至敏
感肌膚,具有高抗炎退紅的特靈來舒緩您的肌膚。
此外面膜富含高容玻尿酸組織,能幫助滋潤肌膚,
促進細胞再生,調和肌膚色素以及抗痘除皺。曬
傷肌膚者或進行高頻率面部護理後即刻敷上此面
膜,冰冰涼涼的薄荷精華能幫助舒緩退紅及保持
水分,同時輕微去除皮膚多餘角質死皮和避免受
紫外線的傷害。
INGREDIENTS
Apls Net Spring Water, Glycerin, Hyaluronic Acid, Lactic Acid, Malva Sinensis Cav, Mentha Piperita, Primula Officinalis, Alchemilla Vulgaris, Veronica Officinalis, Achillea Millefolium, Hydroxyethyl Cellulose, Glycyrrhizic Acid, Peppermint Oil, Carbomer, Triethanolamine, Nitrogen Ketone, Vitamin B3


Formulated with Germany's advanced skin care technology


7 pieces in a box, 30ml each



---